BIG CHIEF STUDIO - DOCTOR WHO - 1st DOCTOR

Commemorative edition
Outfitted in flamboyant gentleman's attire, including a cape and Astrakahn hat, the First Doctor comes with numerous accessories including his horn handle walking cane, monocle and pipe. With eight interchangeable hands, to enable numerous poses and a light-up display base with the Gallifreyan symbol for one, the First Doctor 1:6 Scale Commemorative Edition is the definitive collectable for fans of the Time Lord.
Officially licensed and authorised by BBC Worldwide, the First Doctor 1:6 Scale Commemorative Edition is produced in a worldwide Limited Edition exclusively available from
www.bigchiefstudios.co.uk
and will not be sold via other retailers.
Each figure is numbered (500ex) and includes an accompanying certificate of authenticity.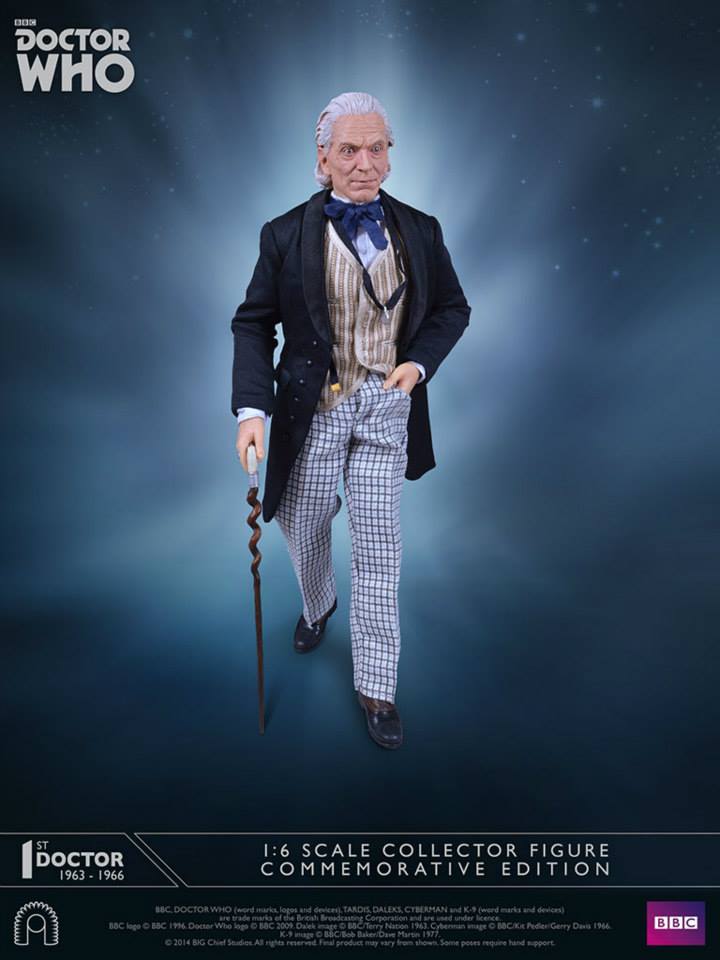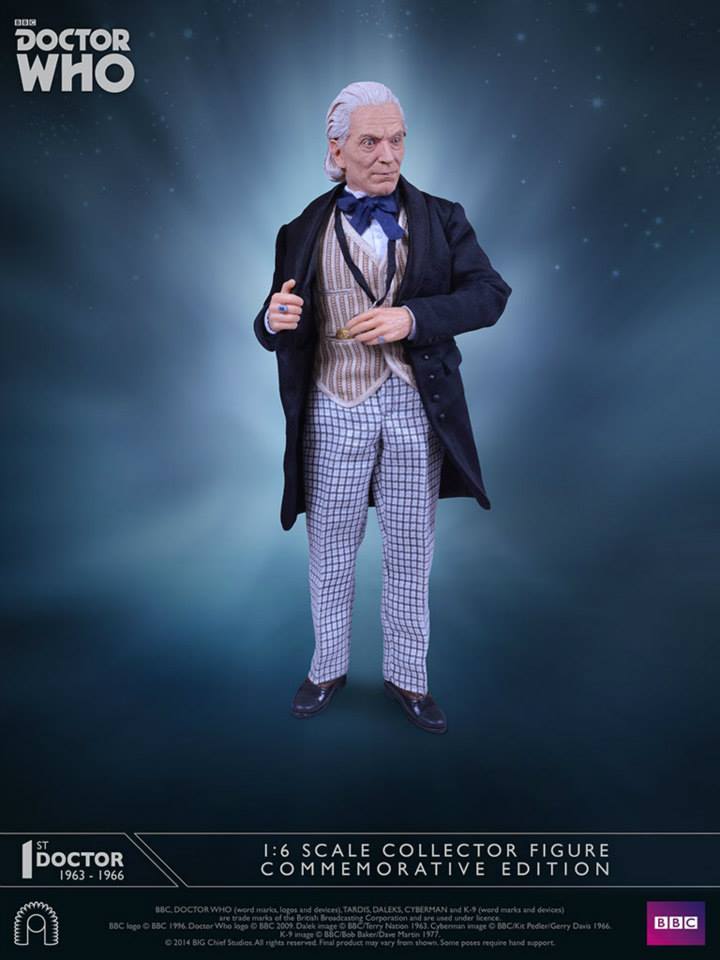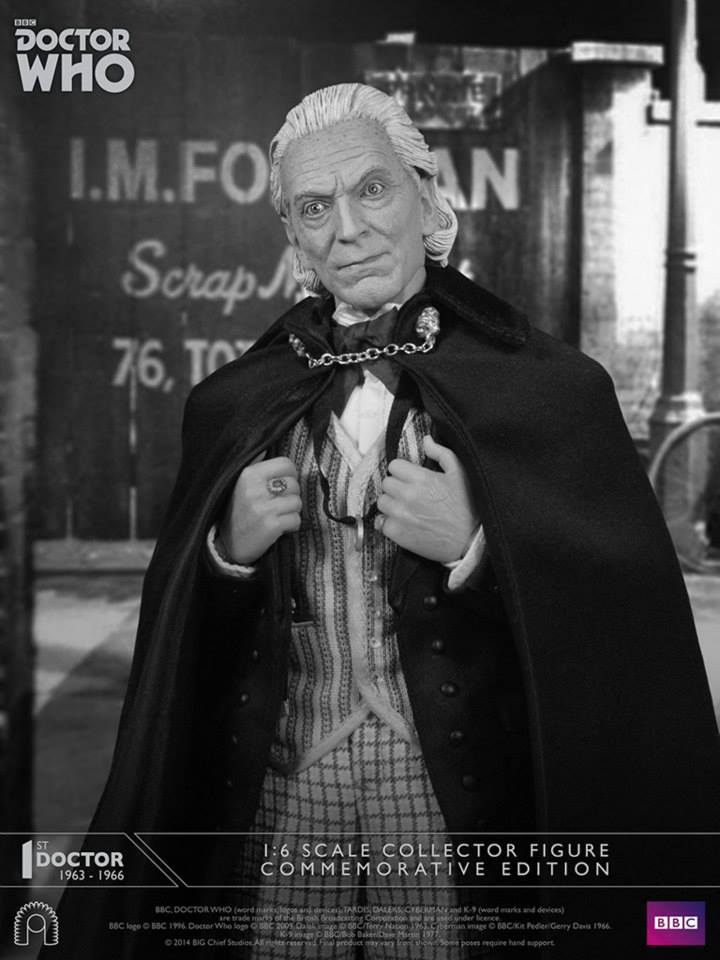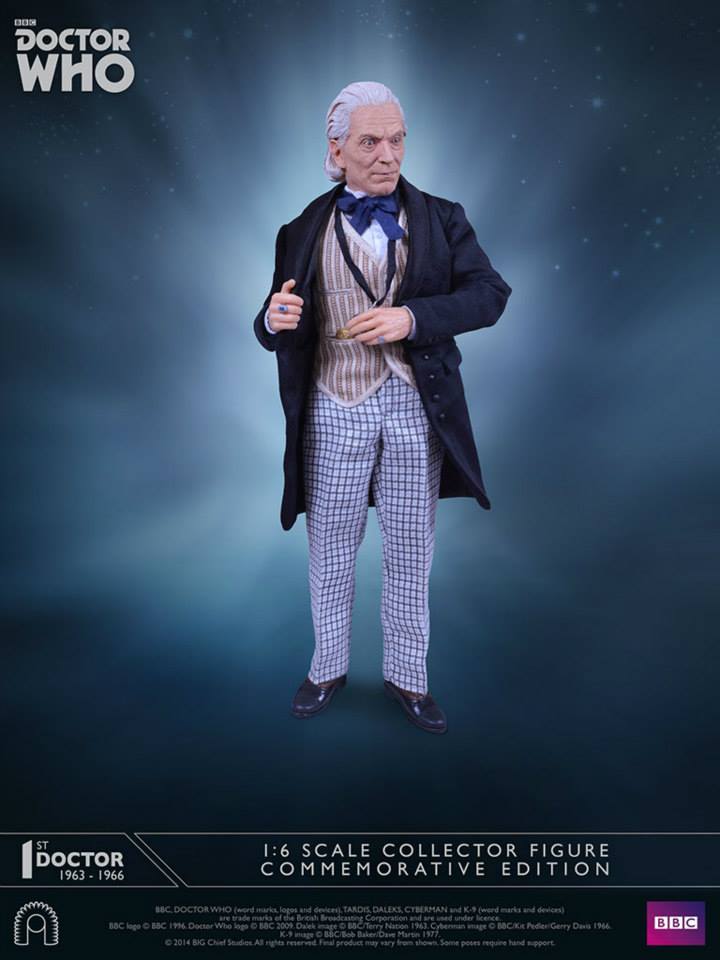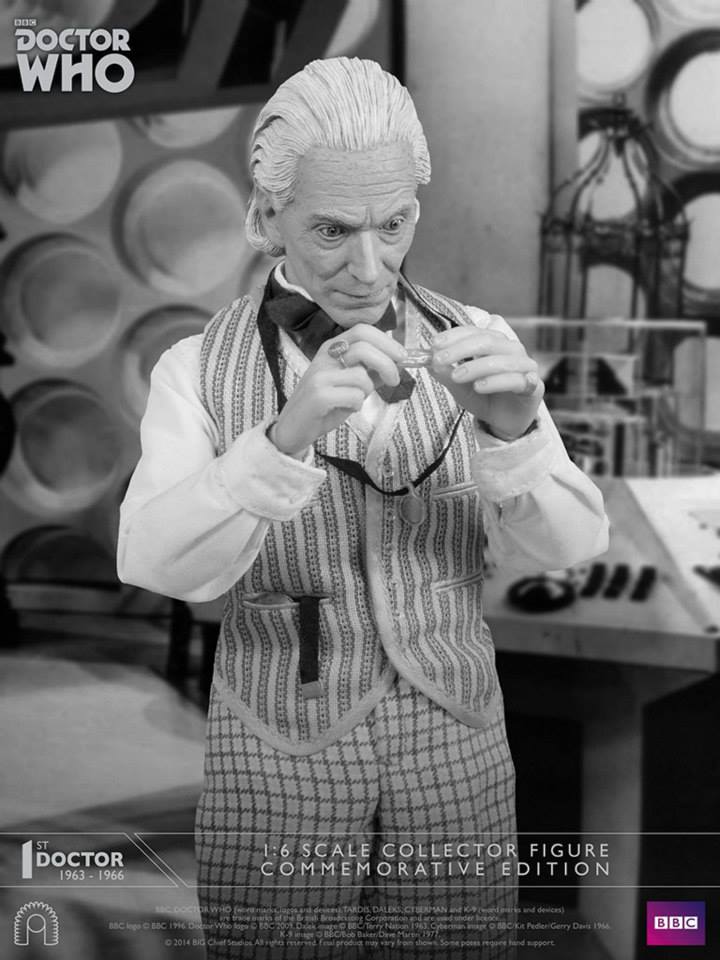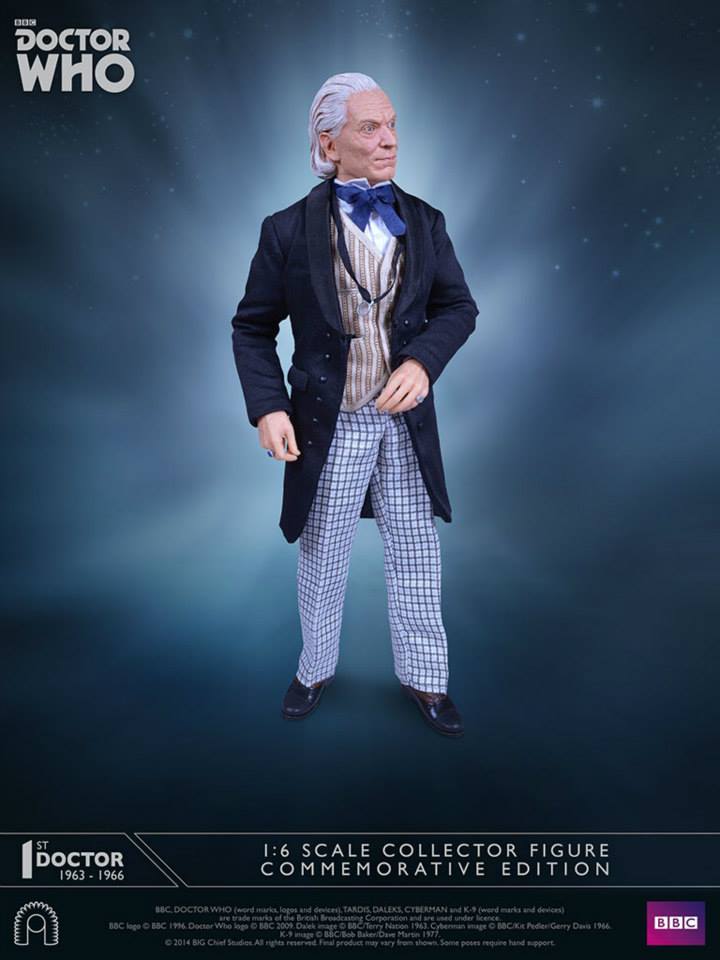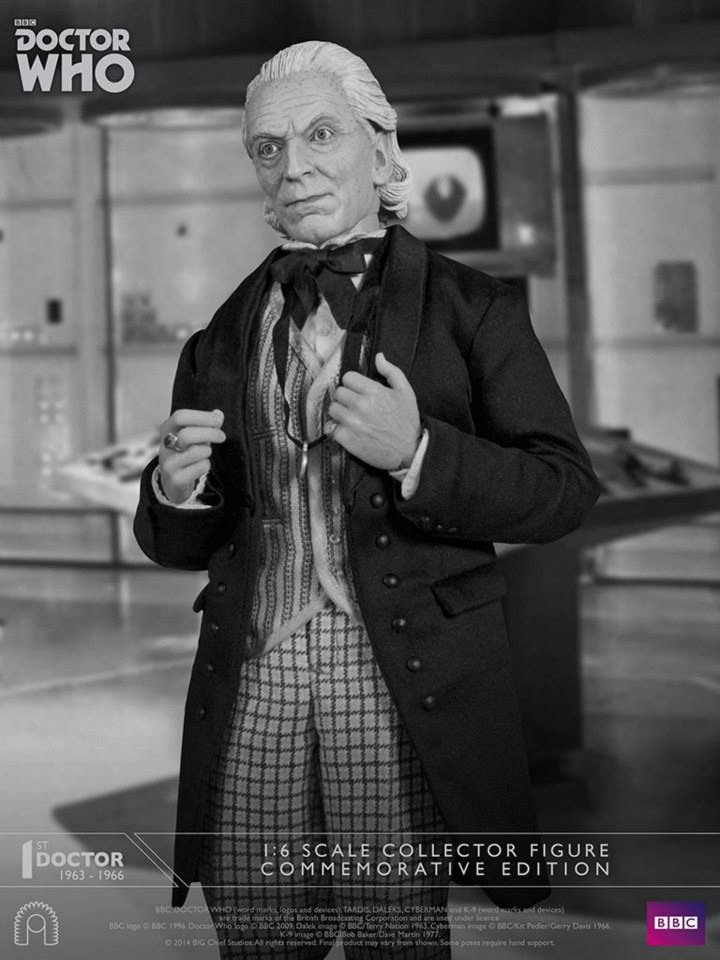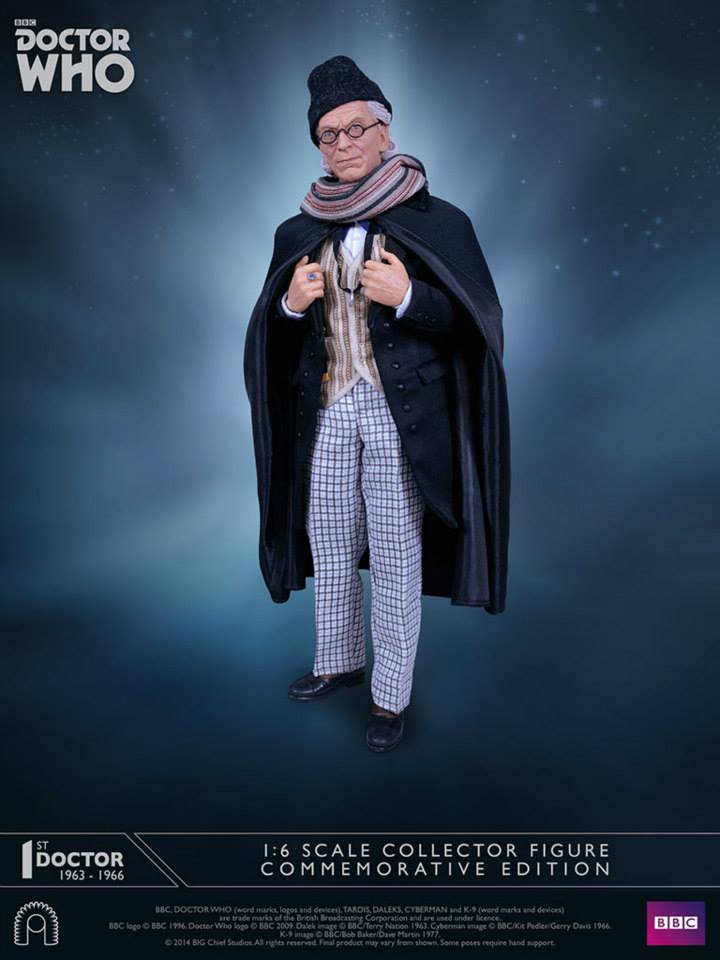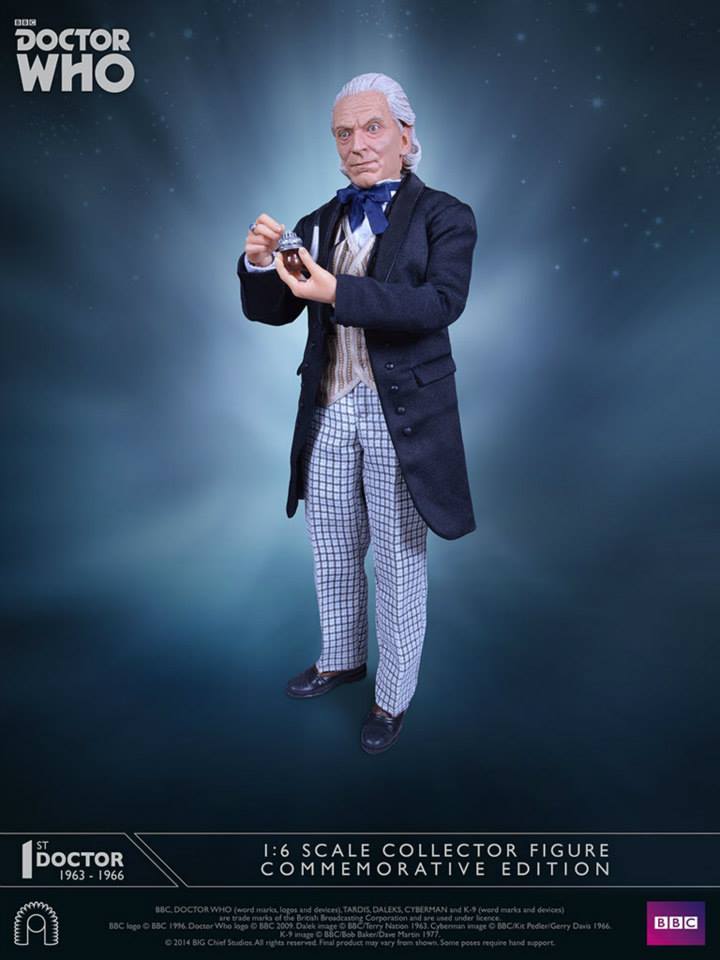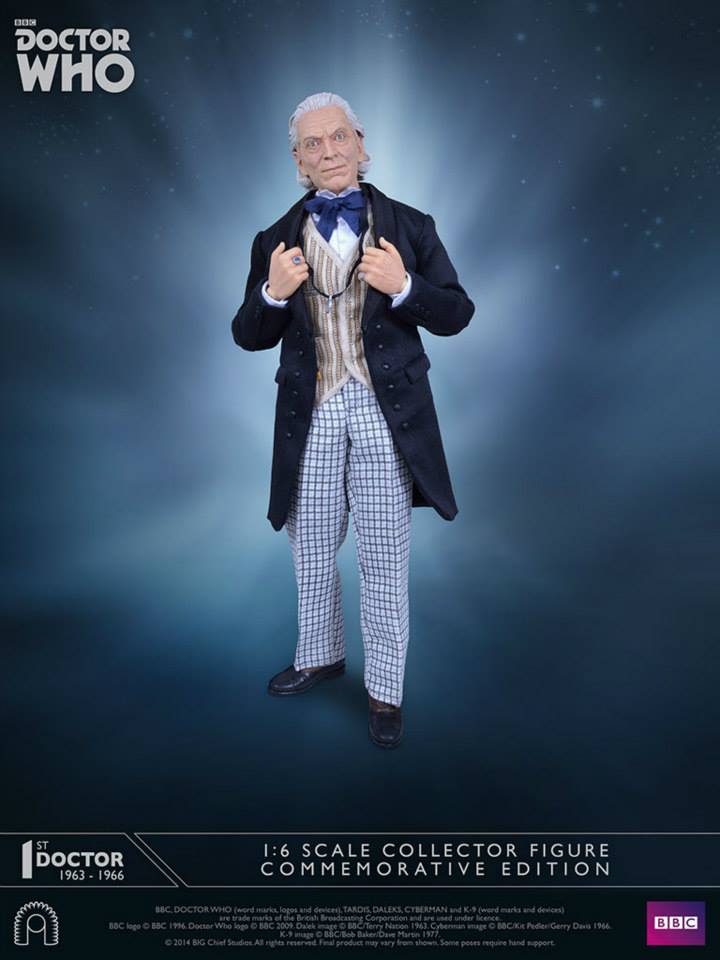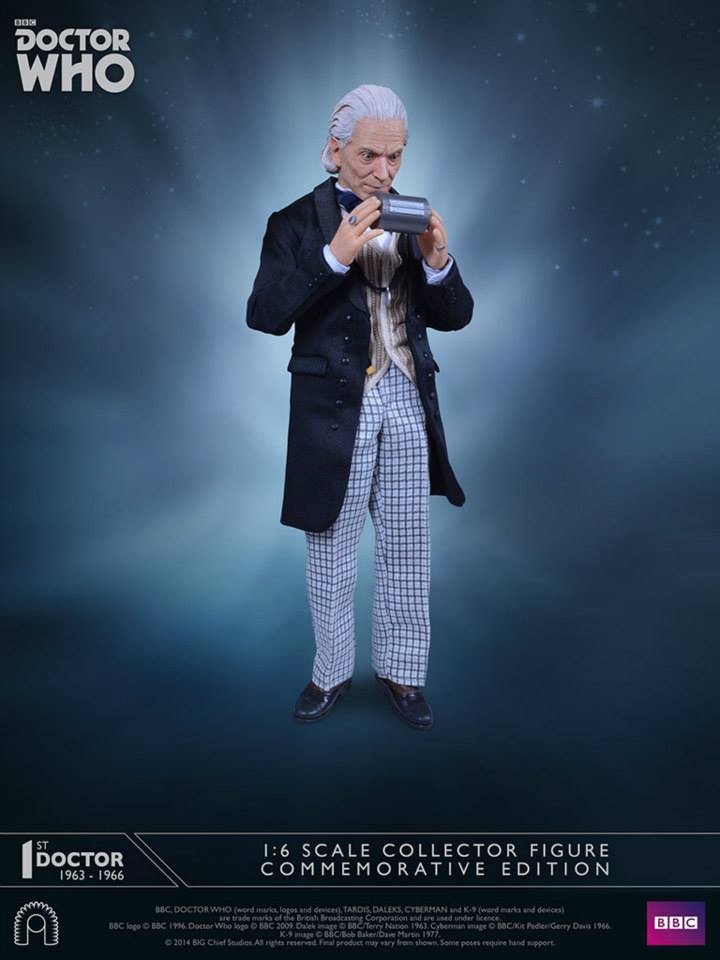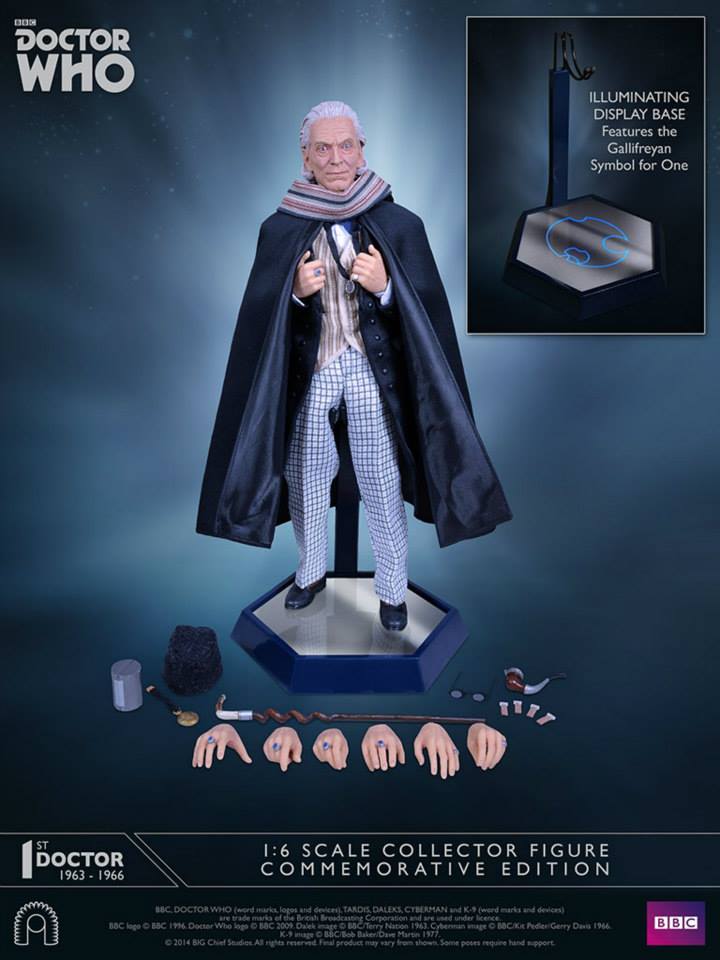 Specification
• 1 x 1st Doctor Head Portrait featuring an Authentic Likeness of William Hartnell
• 1 x Woollen Astrakahn Hat
• 1 x Long Striped Scarf
• 1 x Cape with Chain
• 1 x Frock Coat
• 1 x Patterned Waistcoat
• 1 x Patterned Trousers with Bracers (suspenders)
• 1 x White High-necked Shirt
• 1 x Cravat Neck Tie
• 1 x Pair of Spat Styled Shoes
• 1 x Pair of Socks Tubes (Partial)
• 8 x Interchangeable Hands
• 1 x Display Base with Illuminating Gallifreyan Symbol & Stand
Accessories
• 1 x Walking Cane
• 1 x Monocle with Ribbon
• 1 x Pair of Spectacles
• 4 x Keys of Marinus
• 1 x Dalek Time Core
• 1 x Fob Watch with Ribbon
• 1 x Pipe
• 1 x TARDIS Control Room Printed Card Backdrop (not shown)
• Extra Commemorative Edition Items to be Confirmed (not shown)
Packaging
Product Size: H304.8mm (12")**
Product Weight: 1.20 kg (2.65 lbs)**
Pack Size: W190mm (7.48") x H360mm (14.17") x D120mm (4.72")
Carton Size: W196mm (7.72") x H366mm (14.41") x D126mm (4.96")
Shipping Weight: 1.50 kg (3.31 lbs)**
Product size and weight are approximate. Shipping weight is an estimated value for U.K. shipping calculated by product, pack and shipping materials.
Credits
Project Management, Figure Design & Development, Costume Tailoring: BIG Chief Studios Ltd.
Sculpting & 3D Digital Modelling Direction: Tony Leetham
Portrait Sculpt: Phil Robinson
Paint Decoration & Fabrication: Greggo
Product Photography & Packaging Design: Mark Andrews & Greggo
Special Thanks to: BBC Worldwide, Matthew Toffolo